"Australian Safe Shepherd, thiccest token on BSC" Australian Safe Shepherd twitter bio.
When Captain Inu's crew first saw this twitter bio, we did not quite understand the meaning of it. Surely we did not expect this to be such a fantastic dog-themed meme project. Now that we've looked closer at this project and saw the ticker $ASS we understand fully why this projects token is the thiccest. This project's meme game is top-notch and Captain Inu and his crew expect nothing less from an Australian Shepherd themed dog-meme coin.
What is Australian Safe Shepherd ($ASS)?
Australian Safe Shepherd ($ASS) is a cryptocurrency on BSC (Binance Smart Chain). It is a fork of Safemoon and the creators of $ASS tried to combine the irresistible cuteness of Australian Shepherds with the tokenomics of SafeMoon and managed to intrigue a lot of investors with this. Today $ASS token boasts more than 300.000 holders. The token did a fair launch and is community driven. Every trade continues toward automatically generating liquidity locked inside of PancakeSwap's LP. However $ASS did not bother too much with detailed plans and roadmaps. Instead they just memed the hell out of this project and it worked. Below we display the roadmap presented by $ASS to their holders: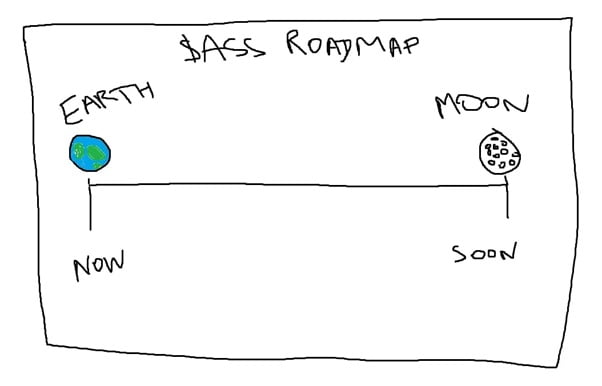 Seems legit.
History of Australian Safe Shepherd ($ASS)
The $ASS token was launched in April 2021. It very successfully managed to get in on the hype surrounding dog-meme coins and SafeMoon. And roughly within a month of launch it had a market cap over $500mil. After that May peak the price dumped heavily and $ASS token has not been able to recover those gains just yet.
What makes the project unique?
The memes, it's the memes. While you could question the rational behind investing your hard-earned money into meme-coins. $ASS proves once again that markets are driven primarily by emotions and it doesn't take much to make people ape in to projects. Meme's, jokes and cute dogs seem to do the trick pretty well, especially when's there a lot of greed in the market.
Is Australian Safe Shepherd ($ASS) a good investment?
Is $ASS token a good investment? Well, $ASS token had it's run when greed was high in the market. But it is struggling to recover and reclaim its former glory. This doesn't mean that when market sentiment picks up again $ASS can't draw on the power of memes and Australian Shepherds to moon again. Having peaked at just over $500 mil market cap, currently it is sitting at $23mil market cap. The thing is that meme coins can perform well in greed driven markets regardless of fundamentals. While $ASS is lacking in the fundamental department they sure know how to meme the market when the timing is right. Could they do it again? Captain Inu thinks they could.
Always do your own research this is not financial advice.
How to buy $ASS token?
Here we will explain how to buy ASS token. $ASS is available on several centralized exchanges including Gate.io, Bitrue & MEXC. There you can buy ASS with USDT stablecoin. (Tether)
If you want to buy $ASS on a decentralized exchange (DEX), then you first need to buy Binance Coin (BNB). You can buy BNB on many centralized exchanges. Including the big and established exchanges. It would be easiest to buy it on Binance since that is the native token of the Binance exchange. After that you need to transfer the BNB to your private wallet. You can create one using Metamask or Trustwallet and connect your wallet to Pancakeswap.
Warning: Many shady figures operate in the Inuverse. When buying through a decentralized exchange make sure that your funds are SAFU by always verifying the following:
Check if you are using the right URL for Pancakeswap & Uniswap. Some scammers place google adds on these search term and inconspicuously change one or two characters in the URL. Connecting your wallet to the wrong URL is risky and may result in you losing the funds in your wallet.
When buying coins through a decentralized exchange always make sure you check the contract address of the coin you are buying through a verified source such as CoinGecko or Coinmarketcap. There are many fake coins going around. They try to use the same or a similar ticker name as $ASS. Buying these would mean you invest in the wrong coin and you could potentially lose your money.
Conclusion
Will we see more $ASS in the future? We sure hope so. We know that when greed is high in the market projects like this have the potential to explode. Captain Inu is curious to see what the future has in store for this token. What do you think, should Captain Inu give his stamp of approval for this project?
Want to learn more about other Inu projects the captain is watching for potential partnershibs? Take a look at our news section.
Want to know how Australian safe shepherd is connected to Captain Inu? Join our telegram channel.