Educating people is something Captain Inu and his crew deeply care about. Therefore it might not come as a surprise that Saitama Inu is an Inu that follow closely. Saitama Inu aims to empower people of all ages, backgrounds and cultures. To make them take control of their finances and create their own wealth opportunities. Captain Inu supports this and wishes Saitama Inu all the best along this noble journey! Read on to find out about Saitama Inu, SaitaMask, SaitaMaker and Saitamarket. Also the article will let you know everything about the price and price valuations that are possible for this token.
What is Saitama Inu? (SAITAMA)
Saitama is a community driven platform with the ticker name SAITAMA. Their mission is to educate investors and make crypto simple and accessible for everyone. The Saitama team has a very clear vision in teaching their users about money and finance. Helping people invest and open opportunities for wealth creation. Saitama is building an entire ecosystem of products that help to achieve that. Including a marketplace(Saitamarket), wallet(Saitamask) & launchpad(Saitamaker). Their applications are for everyone. Although they have stated that they want to focus their marketing efforts specifically on Gen-Z investors. They describe this generation as feeling confused or frustrated when it comes to finance.
History of Saitama Inu (SAITAMA)
Saitama launched in May 2021 on the Ethereum network. The project has an anonymous creator, which is nothing new and often the case in meme-token space. The founder renounced ownership of the project eventually. Luckily a group of community members that supported the vision took over the project and continued it's development. Today the project is headed by Steve@RocketCrypto, a crypto YouTuber. He is supported by 6 team members that are all fully doxxed and listed on their website.
What makes Saitama unique?
Saitama, unlike many meme-projects, has a crystal-clear vision. They are clearly more than just a meme-token. While at the same time the team has identified that memes have the power to attract new users. Especially from their stated main audience; Gen-z. Meme tokens have long been regarded with scepticism by a large part of the crypto community. Projects like Saitama are doing their best to prove these critics wrong. They understand that by focusing on education meme-projects can play a critical role in the crypto space. They have the power to entertain and educate at the same time. This is the power of memetokens in general. These projects are really good in onboarding new users into the cryptocurrency space in a fun way. To do this they are developing a variety of products for their ecosystem.
SaitaMarket
SaitaMarket is a marketplace that Saitama holders to purchase goods and services. The goal here is to build partnerships with a variety of goods and service vendors. Allowing the users of the Saitama ecosystem to purchase these goods and services in a smooth and easy manner. By getting these vendors onboard the project can remove selling pressure on the token. As SAITAMA holders are able to spend their SAITAMA tokens directly in Saitamarket instead of having to sell them first.
SaitaMaker
SaitaMaker is an NFT based launchpad platform. It's aimed at supporting users in the community to create, launch and promote projects based on the $SAITAMA monetary system. Currently there isn't much more information available on SaitaMaker but it's certainly and interesting idea. Let's see if the Saitama team can deliver on their promise within this area of development.
SaitaMask
Saitamask is an app and a cryptocurrency wallet. It's a safe and smart wallet solution that allows users to store their digital assets. These assets include SAITAMA ofcourse, but also other tokens. Saitamask aims to make it easy for users to learn about money and finance in the process. The app launched in start of January of 2022. Unfortunately, the launch was a bit rocky with DDOS attacks derailing it. The team quickly sprung into action and released a series of updates that fixed the issues after the initial launch. The app is the first of their planned products to be released and is huge milestone for the project. It's a non-custodial wallet solution meaning users are responsible for their own wallets.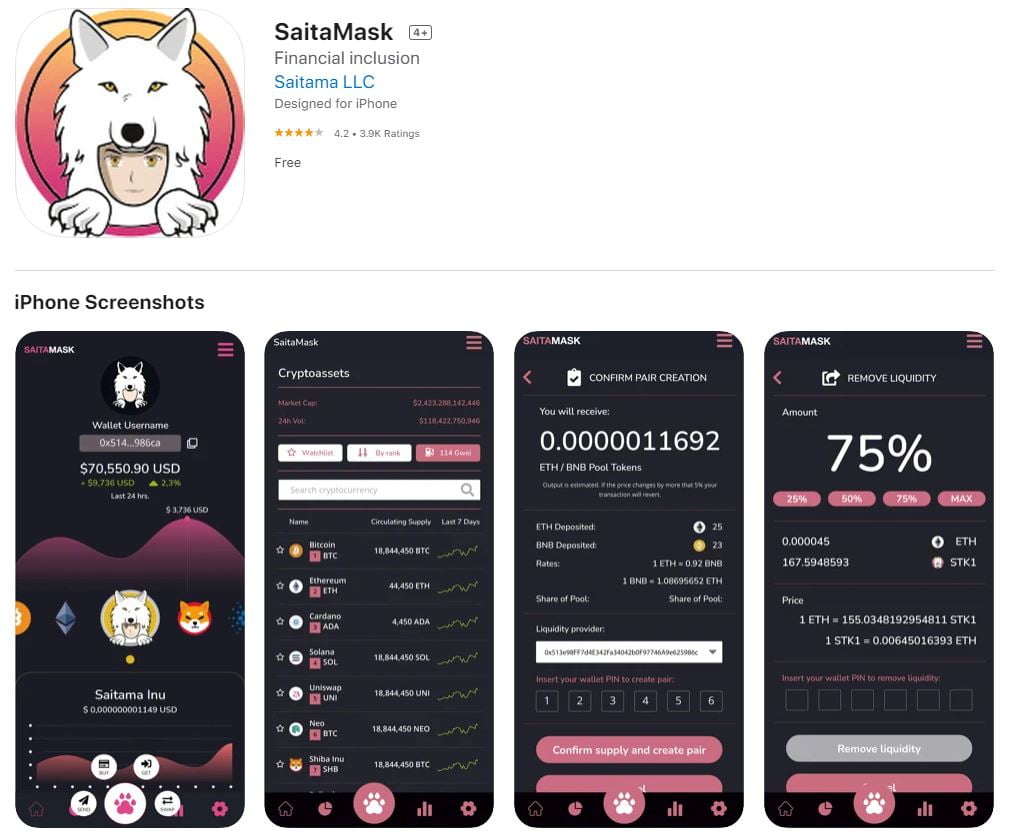 Saitama Inu price
At the time of writing, january 2022, Saitama Inu is sitting at just over $1B market cap. This is after having peaked at just above $4B. The project recently launched Saitmask and the price increased by roughly 60% prior to the launch. Unfortunately the troubled launch and the general sentiment in the crypto market caused a 50% retrace after launch. Certainly, at this point there's still a lot of uncertainty in the crypto market in general. However with a vision as ambitious as Saitama, Captain Inu's starship crew wonders. Will the Saitama team be able to deliver what they promise and how long will this take?
Is Saitama Inu (SAITAMA) a good investment?
You may be wondering if Saitama is a good investment. With the price having retraced over 75% from it's all time high this might be a good buying opportunity. Because if Saitama can deliver on their vision there is still room for plenty of growth from here. While the project is unlikely to do another 1000x from, putting it at $10 trillion market cap. Unlikely because that would put the market cap roughly 15 times the size of bitcoin at the time of writing. A more realistic target would be in the same range as Doge ($18B) or Shiba Inu ($11B). Which would still leaving plenty of room for growth.
Always do your own research this is not financial advice.
How to buy Saitama Inu (SAITAMA)
Here we will explain how to buy SAITAMA token. SAITAMA is currently only listed both decentralized and centralized exchanges.
If you want to buy SAITAMA on a decentralized exchange (DEX), then you first have need to buy Ethereum (ETH). You can buy ETH on any centralized exchange including the big and established exchanges such as Binance, Coinbase or Crypto.com. Then you need to transfer the ETH to your private wallet. You can simply create and access dex's using Metamask or Trustwallet. Finally connect your wallet to Uniswap and you can search for and buy SAITAMA.
Warning: Many shady figures operate in the Inuverse. When buying through a decentralized exchange make sure that your funds are SAFU by always verifying the following:
Check if you are using the correct URL. Some scammers place google ads on these search term and inconspicuously change one or two characters in the URL. Connecting your wallet to the wrong URL is risky and may result in you losing the funds in your wallet.
Always make sure that you check the contract address of the coin you are buying. When buying a token on a decentralised exchange. You should always do this through a verified source such as CoinGecko or Coinmarketcap. There are many fake coins going around that use the same or a similar ticker name as SAITAMA. Buying these would mean you invest in the wrong coin and you could potentially lose your money.
If you prefer using a centralized exchange, Saitama Inu is currently listed on Gate.io, LBank, BitMart & MEXC.
Conclusion
Saitama has done very well to clarify their vision and identify their niche. The project has definitely impressed the crypto community so far. However it all comes down to making it happen and coming through on their promises. In conclusion; there is a lot of hype around this project, they are working on several features at once. Now it needs to show the developments and get all of their products to be seamless. Saitamask is the only product which has been released up until now and its release was far from perfect. Let's see how they do on Saitamarket and Saitamaker. Will Captain Inu ever be included in Saitamask? Captain Inu will be watching closely!
Want to learn more about other Inu projects the captain is watching for potential partnerSHIBs? Take a look at our news section.
Want to know how Saitama Inu is connected to Captain Inu? Join our telegram channel.